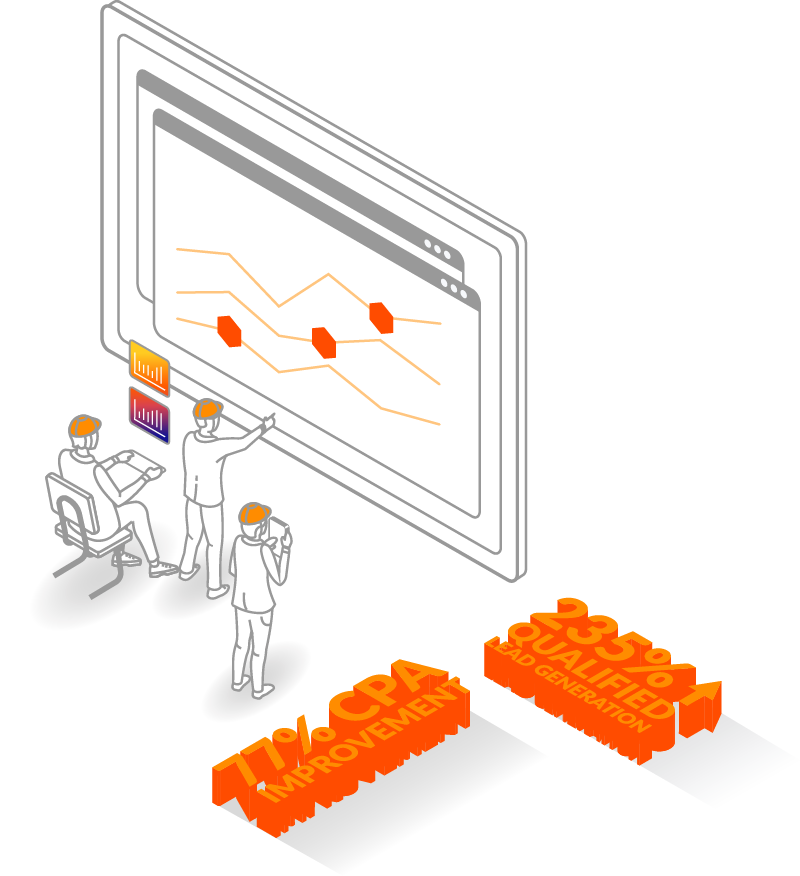 Own all of your growth opportunities.
Turn your marketing efforts into a reliable pipeline of new customers. Bring us in as your partner team to accelerate your growth and boost performance by leveraging Topic Intelligence™.
Empower your Search Advertising efforts with Topic Intelligence™. Expect performance, scalability and transparency.
Organize and boost your SEO efforts with Topic Intelligence™. Expect organic results, boosted rankings and dependability.
Informed SEM is a new & proprietary approach. SEO and PPC are executed synergistically to drive results that are greater than their component parts. It accelerates organic and paid traffic increases using more efficient topics in PPC and better content in SEO.
Integrating SEARCH tactics (PPC and SEO) is hard to execute well. The game changer for engageSimply's Informed SEM solution is our proprietary Topic Intelligence data. It's a new class of unique topic data with the intelligence to inform advertisers of the best ROI-efficient topics.
Informed SEM predictably delivers topics worthy of investment to each advertiser based on their ability to convert into customers. With Topic Intelligence data, Informed SEM can eliminate waste, reduce CPAs and improve conversion rates by providing a new approach to SEO and PPC that can sustainably be monetized.
Get transparent attribution metrics for all your marketing efforts, and build new Topic Journeys to Conversion for your customers.
It's the level of attribution you need: turnkey and accurate – to help you optimize your marketing spends across the board.
Attribution modeling is the key to unlock the potential of your digital marketing efforts. Too often though, attribution solutions track "data points," but cannot uncover full conversion journeys.
Our Topic Attribution solution is unique in that it tracks the "topic journey to conversion" and simplifies attribution tracking by avoiding the data & privacy challenges of a "people-centric" attribution model. When you move from figuring out the very complicated "who" is converting to "what topics and their sequence" drive conversions, you can create a predictable conversion engine allowing you to optimize all paid channels, content/SEO/PR efforts in a cookie-less future.
With our solution, you can trust that you are de-facto using one of the best privacy-focused solutions out there. We track topics around the web – not people. By focusing on the richer context of how topics drive conversions, you will generate much more substantial insights to drive better data-driven decisions.
Contextual Display Advertising
Empower your scaled display advertising efforts with our Topic Intelligence™.
Turn this volume channel into a quality driven acquisition effort by targeting only the Topics that represent the most opportunities for your brand.
Reach your potential customers in a contextual moment when their real intent to engage with your brand is at its peak.
We transform your display campaigns into acquisition focused contextual programmatic campaigns. The engageSimply "Acquisition DSP" (Demand Side Platform) targets specific topics pages for precise, topic-based ad placements. Imagine an ad about electric cars on a web page talking about electric vehicles – then doing that reliably at scale. High quality contextual ad placements propel acquisition.
The secret lies with engageSimply's DSP powered by our proprietary Topic Engine able to identify specific trending topic web pages and place ads with a deep contextual match on these topic pages – programmatically.
We don't match keywords (which do misfire) or predefined interest classifications (too broad). Instead we match trending topics on the right pages to connect with topic engaged audiences for a sustainable sales funnel in real time.
And, we do all that without tracking people – only topics. 
Empower your Brand by Evolving your Brand Experience and all your Brand Assets.
Elevate your Brand Identity. Upgrade your Brand Experience. Boast World Class Branded Assets. Transform your Website & Platform UX.
We create and re-engineer websites to maximize your brand's conversion potential. With our award-winning team and our proprietary topic data from Topic Intelligence, we take the guesswork out of creating websites & brand assets that perform – day in day out.
We marry elegant user experiences with the latest front-end and back-end technologies, landing page development and integrated digital advertising readiness, all to optimize your site's and future marketing endeavors' performance.